Every summer I constantly struggle with myself. To find the perfect match ancient greek sandals. The truth is, I set the bar high for my data. I have had the perfect sandals for many years.
It was a pair of golden high ancient Greek sandals. I bought them 15 years ago with my mom at our favorite clothing store. You know, back then people weren't ready for these shoes yet. There were a lot of comments that I heard, but they were not so inspiring or strong as to stop me from wearing them. All "Who are you and do you wear these shoes? Hermes;"they never asked me questions their strength: The fact that they made me feel fearless every time I wore them. The self-confidence and self-expression that they offered me, especially 15 years ago, when I was still trying to discover it, they were enough to become my favourites.
Although I have a high bar, mostly because of the emotional value of my old sandals, I'm ready to move on. I am ready to discover new parts of myself and have new memories. with a young couple. This year I am sure that I will find the perfect one. And I believe in this for the following reason: because every year more and more shoe brands dedicate even one of their designs to this emblematic shoe style with its huge history. It all started, of course, in Ancient Greece.
A few words about the history of ancient Greek sandals
It doesn't take long to realize that ancient Greek sandals first appeared in Ancient Greece. Our Greek ancestors invented not only Democracy, but also these eternal shoes. To not walk barefoot The ancient Greeks tied leather soles to their feet with a rope. In fact, many have painted them with natural colors to make them stand out. With the most modern (but also the most archaic) images of the gods of Olympus, sandals were identified with strength and power.
However, today their shape is closest to sandals. originated during the Roman Empire, after the conquest of Greece by the Romans. It was they who improved their appearance by making more "solid" designs and decorating them with springs and beads. As a more stable shoe, the Romans now wore them even in battle. Before we see them in today's society, Ancient Greek sandals were a means of women's protest during the French Revolution.. With this open shoe style, the French wanted to get rid of the taboo on the clothes of that time.
Then came the 60s when those sandals reborn on the catwalks of iconic fashion houseswhere is it Paco Rabanne, but also Christian Dior after. Their presence at the time played a catalytic role in being considered a favorite shoe style for the summer. Since then, it has remained firmly in the wardrobes of women and men.
Ancient Greek sandals today
In modern fashion, we have seen them celebrated many times by fashion houses. In the 90s Calvin Klein where, with his famous minimalism, he presented a more simplified version of them on the catwalk. Up to 2018, with Chanel Resort a collection where Karl Lagerfeld drew inspiration from Ancient Greece for his collection. Today, ancient Greek sandals remain a staple of must-have summer footwear styles. with home Dior brings back gladiator styles with Spring/Summer 2022 collectionthese sandals are again on our list for the first time.
Regardless of fashion trends and global catwalks, ancient Greek sandals have different weights for us Greeks. This is the style we grew up with. From the ancient Greek designs that we see everywhere in Monastiraki to the most sophisticated Greek luxury brands. Now there are so many Greek creators who are inspired by our cultural heritage, presenting it at its best: Minimalistic, timeless and effortlessly elegant.
Ancient Greek sandals as an absolute classic
That's why todayEditor's Choice dedicated to ancient Greek sandals. I want to prove to you today, their eternal charm. And most importantly, this is a classic style of sandals that you will wear for a lifetime. From the simplest and minimalist designs to the most intricate, below you will find the most beautiful ancient Greek sandals on the market.
SANDALIST.GR
Leather sandals with laces
Sandalist
BUY
ESTET.COM
Sandals with metal details
Walia Gabriel
BUY
DIGAIA.COM
Strappy leather sandals
DiGaia
BUY
ANTIENT-GREEK-SANDALS.COM
Lace-up leather sandals
Ancient Greek sandals
BUY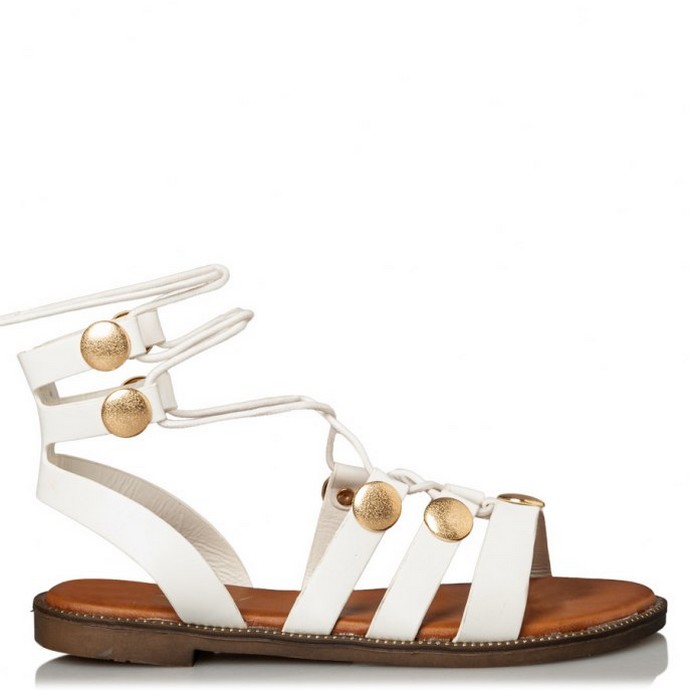 ENVIESHOES.GR
Ancient Greek andals with trunks
Miss HB
BUY
ASOS.COM
Sandals with thick soles
public desire
BUY
ESIOT.GR
Ancient Greek sandals with metal details
ESIOT
BUY
ZEUSNDIONE.COM/
Ankle tie leather sandals
Zeus + Dione
BUY
ZARA.COM/GR
Ancient Greek sandals
Zara
BUY
NET-A-PORTER.COM/EN-GR
Ancient Greek sandals with trunks
Valentino Garavani
BUY
KYMASANDALS.EU
Handmade sandals with suede laces
KIMA
BUY
Source: Lady Like