At the last Mobile World Congress in Barcelona, ​​the Unihertz Luna was one of the smartphones that made the headlines. Dubbed the "Nothing Phone clone (1)," the product promised to be an alternative for those who want a color smartphone with LEDs on the back. Will it be more? Let's figure it out with this review.
I've tested the Unihertz Luna over the past two weeks and this review gives my opinion of putting it in the 250-300 euro price range. There's no way to avoid talking about LEDs on the back, but you should treat this as a "regular" smartphone and see if it's worth the money.
Main specifications of Unihertz Luna
Unihertz Luna Unboxing
The Unihertz Luna offers a satisfying unpacking experience considering the accessories in the box. At the top there is an area where you can see the instruction manual, a tool for inserting/removing the SIM card and a plastic film.
Beneath it sits a smartphone that curiously already has a transparent cover attached. This is a design advantage as it does not affect aesthetics at all. Under that zone is a USB-C to USB-A cable and his 18W charger.
My opinion on Unihertz Luna
Unihertz Luna Design
It's no exaggeration to say that most people who buy the Unihertz Luna want a smartphone with this type of design. In the aesthetic field, this is an affordable alternative to the Nothing Phone (1) as it offers backlighting for less than 300 euros.
This is done thanks to other cuts to the terminal's capabilities that will be discussed later. The highlight is obviously the fact that these lights are RGB (not just white as in the phone (1)).
This allows you to switch the color spectrum for the widest variety of actions. Whether it's incoming call notifications, notifications, adding music or charging reminders, these lights offer great customization for users.
The caveat is that the light brightness is not adaptive. For my taste, I think this is too strong in low light. But for those who think "brighter is better", it's just the ideal solution.
For the rest of the design, the Unihertz Luna is based on the phone itself (1) and the most recent iPhones. The back is transparent like the Nothing, but the camera part immediately reminds me of one of Apple's latest smartphones.
The screen is flat with a punch hole in the upper left corner. The margins are symmetrical except at the bottom where there is a small chin. The frame has a 3.5mm jack on top and a speaker, USB-C port and SIM card slot on the bottom.
On the right side you'll find the on/off button that comes with the body and the more prominent volume buttons. On the left is an interesting option, with his two programmable buttons. These can be programmed for shortcut one-tap, long-tap, or double-tap actions.
Construction of the Unihertz Luna
The build quality of the Unihertz Luna is very satisfying for the price. I wish it had a more prominent on/off button, although it looks more expensive than it actually is. Note the shadow around the front camera punch hole. There is no particular problem.
What is the structure of the back of the main unit? Well, it doesn't feel like a premium Phone(1). But the truth is that Unihertz did a great job with the asking price and the LEDs on the back. I also added some color, which turned out to be interesting.
Unihertz Luna Screen
The Luna has a flat, spacious 6.81-inch screen with less white space and a larger 'chin' area. This is an excellent 6.81 inch IPS panel with a resolution of 2340 x 1080 pixels.
It is a satisfactory panel for playing multimedia content such as videos and playing games. But this is one of the things this device could be even better at. It's not an AMOLED panel, although it's not required at this price point. But even though its frequency is only 60 Hz and it has a very satisfying processor inside, sometimes navigation in the browser seems to be "stuck".
In terms of brightness, it can be used outdoors, but it can be said that it is not a strong point. The image below shows how it behaves in that field when the sun is down.
Unihertz Luna Audio
Well, what about the Unihertz Luna's audio? The sound produced by the lower speakers is acceptable for this price point, although there is some distortion typical of this price point at high volumes.
But unfortunately, the bottom row is the only option for those who want to watch videos on their smartphones. So you won't get a true stereo experience here. If this weren't the issue, the sound coming out of the bottom speaker is pleasing.
But in the end it deserves a positive rating as it brought something that many users still appreciate. At the top of the jack he has a 3.5mm jack input in case you want to connect wired headphones.
Unihertz Luna performance
Luna is good enough for the tasks we all need to do on our smartphones every day. A MediaTek Helio G99 processor (same as the Galaxy A24 or POCO M5) provides this performance, with 8 GB of RAM and 256 GB of storage.
Due to the fact that it only has a 60Hz refresh rate, the smartphone does not seem as fast in certain operations as devices with higher refresh rate panels. This is even more felt while surfing online and using social networks.
This didn't affect the overall experience of the device, and I didn't notice any slowness or lag in the most varied tasks. Playing my favorite Pokémon GO, it worked very well.
Unihertz Luna interface
The interface is one of my favorite details about this Uhinertz Luna. The result is a very similar experience to pure Android, albeit with sporadic brand customizations. A very good point is that I didn't notice poor translation like other devices I've tested in the past.
Another positive is the fact that very few applications are factory installed. In addition to Google's regular applications, you can count the number of unwanted applications on your device with one hand.
My rating in this area would have been even higher if my phone didn't have Android 12. It's unclear at this time how long it will take to receive the latest Android 13.
Unihertz Luna Camera
The Unihertz Luna's main camera is 108 MP and provides decent images and video when used in good light scenarios. It also has a portrait mode that allows you to get satisfactory photos even in such situations.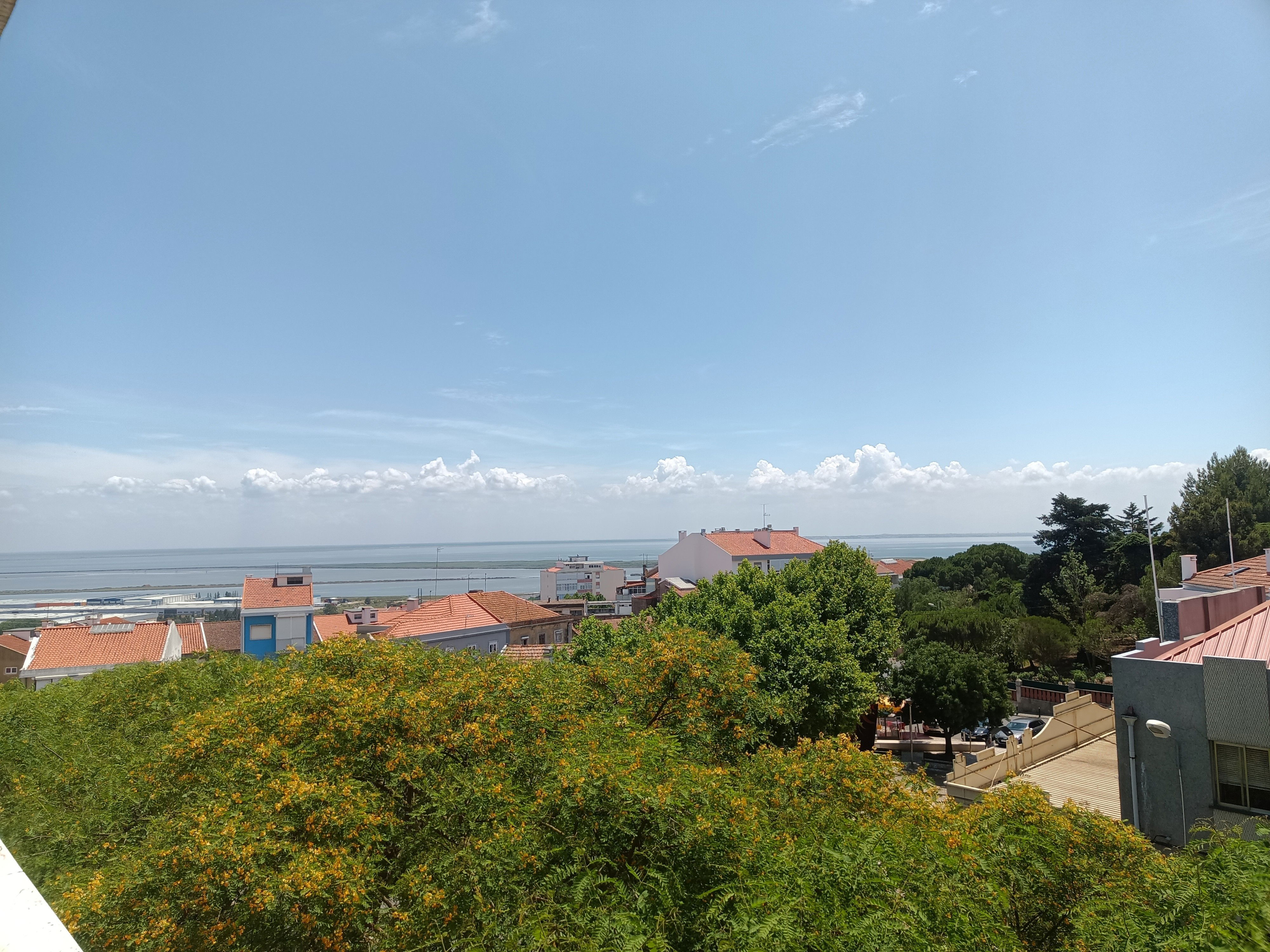 But when you start taking pictures with less light, you start to see natural grain. In addition, there is also a camera for night vision, which may be of interest to those looking for something special like that.
And the truth is that this allows you to capture images even in complete darkness. But probably most users will be happy to replace this camera with an ultra-wide camera that isn't included with the device. The third camera is a macro sensor for capturing objects closer.
Also worth noting is the front camera. It has no complaints for taking occasional selfies or making video calls for social networks. The only thing I noticed in this photo is that there is no portrait mode to blur the background.
Unihertz Luna Battery
Batteries are like fish in water for Unihertz, and they don't sell some smartphones with the biggest batteries on the market. And in the field of autonomy, this Luna certainly impresses.
The handset has a 5000 mAh battery that lasts for a day and a half to two days with light to moderate use. Of course, if you use the phone more intensively, the battery will last a full day, but that's okay.
What doesn't score the smartphone high in this area is the fact that it only has 18W of charging. So it takes another 2 hours to charge the Unihertz Luna. However, since most users charge overnight, this is not a big issue.
Unihertz Luna quality and price
If you are talking about price and quality, you will find better options in this price range. The Unihertz Luna is made with people in mind who want a flashy outfit with a light behind them but don't want to pay a high price.
From that perspective, we can see that it offers a good experience. The Luna has a design that stands out from any other smartphone in this price range, and it's worth noting. However, the screen refresh rate comes with compromises, the weight and thickness of the device, and the fact that it only has one speaker.
Conclusion about Unihertz Luna
If you're looking for a flashy smartphone and want to keep it under €300, the Unihertz Luna is the one for you. The backlight (RGB in this case) is noticeable and useful in some situations. But is this festival of lights worth it?
The autonomy of the smartphone is very good, but with the addition of a 5000 mAh battery to these lights, the smartphone is thick and weighs 298 grams. There is a 3.5mm jack input, but stereo speakers would probably be preferable.
The main camera performs well in good light conditions and is a good option for users looking for a camera with night vision capabilities. But probably most users prefer ultrawide.
As mentioned above, the screen is large and color reproduction is generally good. But the fact that the refresh rate is 60Hz doesn't seem very acceptable in this 'championship season'. But for those looking for a more affordable Nothing Phone (1), it's definitely an interesting alternative.
LED pattern: RGB on the back
processor: Mediatek Helio G99
battery: 5000mAh
screen: 6.81 inch
ever since
284 euros
and
Amazon.ES
This smartphone is not recommended for general users. We recommend it to those who want a smartphone with RGB LEDs on the back, but do not want to pay more than 300 euros. With non-RGB LEDs on the back, the Nothing Phone (1) is still the better option, but costs €100-150 more.
| | |
| --- | --- |
| design | Four |
| construction | Four |
| screen | 3 |
| audio | 3 |
| performance | 3 |
| interface | Four |
| Chamber | 3 |
| battery | 4.5 |
| value for money | 3 |
| punctuation marks | 3.5 – good |
Unihertz Luna strengths
Improvements from Unihertz Luna
Source: 4G News
I am James Novak, a passionate and experienced news writer with the ultimate goal of delivering the most accurate and timely information to my readers. I work in the news department at a website dedicated to providing reliable and up-to-date information about technology. My articles are widely circulated, often featured on major publications, and have been read by millions of people around the world. With over four years of writing experience in various fields such as tech startups, industry trends, cybersecurity, AI/ML advances, and more, I bring an informed perspective to all topics I write on. Beyond my published work online and in print media outlets, I'm also an avid speaker at local events where I share my insights on current issues related to technology.