As fierce fighting continues in eastern Ukraine, millions of Ukrainian men and women are preparing for the fast approaching winter as they can. The so-called wintering, that is, the insulation and heating of buildings often damaged by war, has also become the main target of humanitarian aid from the West in recent weeks.
But all this happens amid daily bombings, planned and unplanned power and water blackouts, and Russia's efforts to further damage energy infrastructure to terrorize locals.
Decades of plan
However, the thoughts of local and regional authorities, the central government in Kiev, civil society and European donors are not limited to ensuring the basic living needs of as many residents as possible in the coming months.
Among Ukraine's supporters there are also many who look a step or two ahead and are interested in the country's long-term future after the end of Russian aggression. This perspective is undoubtedly European, at least since 23 June this year when Ukraine was granted candidate state status for future EU membership. Being green is in everyone's interest, including the Czech Republic.
Complex Putin
An American weekly newspaper received emails in which an informant from Russian counterintelligence described Russian President Vladimir Putin closely. He approaches his psychological profile and guesses what he can do in Ukraine.
At the end of October, a donor conference for Ukraine was held in Berlin. Ursula von der Leyen, President of the European Commission, stated in her closing speech that the Marshall Plan for Ukraine should be compatible with the Green Deal for Europe. And as a result, as early as May 2022, more than 50 Ukrainian non-governmental organizations issued a call for "green recovery, which will be the basis of the future strategy for the post-war reconstruction of Ukraine". It is clear that today's decisions and investments will have an impact on Ukrainian society for decades to come. But what could all this mean in practice?
It means thinking about national security in relation to sustainability. Ukraine's future, like other countries, lies in the transition to clean and often decentralized energy sources; this ultimately represents a far less interesting military objective than large coal or nuclear power plants and thermal power plants.
This means heating as many buildings as possible in the shortest possible time, including thousands of war-torn buildings, and replacing fossil heat sources where possible. This means thinking about the sustainable functioning of agriculture, which is crucial to the Ukrainian economy and employment, and ultimately uses far less chemicals and fertilizers than the standard in the West today.
It also means restoring the ecological damage that Russian aggression has done and continues to do to the region. This will take many years and will require billions of dollars that Russia must pay in future reparations.
In the long run this means preparing for the introduction of a carbon emissions market modeled on the EU ETS (European Emissions Trading System, editor's note). And finally, it means trying to maintain the highest possible (in the European sense) environmental standards during the recovery of Ukrainian industry, infrastructure and cities.
A challenge for generations
In all this, Europe must strengthen its position and credibility as a supporter of Ukraine, including by providing continuous and flexible macro-financial assistance to the sick economy. Only in this way can he gain the credibility necessary to lead the reconstruction of post-war Ukraine, which the EU has resorted to internationally (quite rhetorically for now). However, Western funding for restoration purposes must come with certain conditions that reflect the EU's sustainable activities classification or DNSH principle, taking into account the above, so as not to cause significant damage to the environment.
Another victory of the Ukrainians?
The head of Enerhoatom said he had received information in recent weeks that the Russians are preparing to withdraw from the Zaporozhye nuclear power plant. The Russian occupation administration denies this.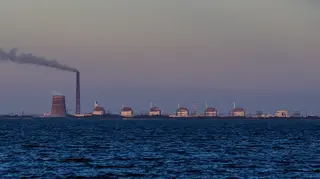 The Czech Republic Presidency of the Council of the European Union, which continues until the end of the year, can still play its role. Prime Minister Petr Fiala will undoubtedly hand over to his Swedish counterpart, Ulf Kristersson, among many other agendas, the future role of the European Union in the country's post-war reconstruction.
Although the Czech Republic honorably assumed the role of the twenty-seventh coordinator during the Russian aggression and took a number of important steps at the national level, it has yet to offer a coherent vision for post-war Ukraine. due to departmentalization within their ranks. It's time to try. After all, post-war reconstruction of Ukraine is the official number one priority of the Czech presidency.
In the words of German Chancellor Olaf Scholz from the Berlin conference, rebuilding Ukraine will be a challenge for generations. It is much more important not to delay its start and at the same time to think about it in the context of green modernization of all of Europe.
Because when Russia's war against Ukraine is finally over, we must be ready to help Ukraine and its people stand up as soon as possible so that the country can become a full member of the European community.
Source: Seznam Zpravy
I am Joel Fitzgerald, a news website author for The News Dept. I have worked in the media and journalism industry for over 10 years and specialize in world news. My articles have been featured in prominent publications such as The New York Times and The Washington Post, where I am an expert contributor on global affairs.
I also write extensively on topics related to politics, economics, business, finance and technology. My work has been recognized with numerous awards from organizations such as the United Nations Press Corps and Associated Press Editors Association of America (APEA).
In addition to my writing career, I have held various roles within the field of communications ranging from public relations specialist to digital strategist.