Protests in China dominated world media headlines, but Chinese journalists themselves are much less outspoken. They virtually ignore the rioting crowds.
Instead, Monday's headlines were filled with statistics about the elections in Taiwan, a solar power plant in Qatar, or an increasing number of tanning beds. After a night of unrest, CCTV devoted most of its morning broadcast to the planned launch of the Shenzhou-15 spacecraft to the Chinese space station.
After 10 people died in a fire in China's Xinjiang autonomous region on Thursday, a wave of protests erupted in at least a dozen cities in China against unending anti-COVID measures, according to official figures. However, if it were not for such strict covid restrictions, people would probably have managed to escape the fire and smoke.
Corona virus measures in China with a photo
"It seems that the authorities and state media tend to ignore this wave of protests, and the government heavily censors the dissemination of information among the public. On the contrary, the need to confront the seriousness of the situation with record numbers of infected people and joint forces has recently been reflected in the media, which basically means that the already tense measures It makes it possible to sustain and tighten further," says David Gardáš, analyst of the Synopsis project for Seznam Zprávy.
"This is quite common when something happens suddenly and Chinese propaganda doesn't quite know how to react. International Association for Problems (AMO) analyst Filip Šebok adds to Seznam Zpravy: "We are waiting for the official announcement, so the events are ignored in the Chinese press."
The Chinese have run out of patience
Increasing numbers of Chinese are taking to the streets to protest the zero-tolerance policy against covid-19. As part of this, Beijing generally does not hesitate to quarantine millions of people, even due to a few cases of infection.
Some protesters openly criticize the president, which is unusual in a country firmly ruled by the Communist Party.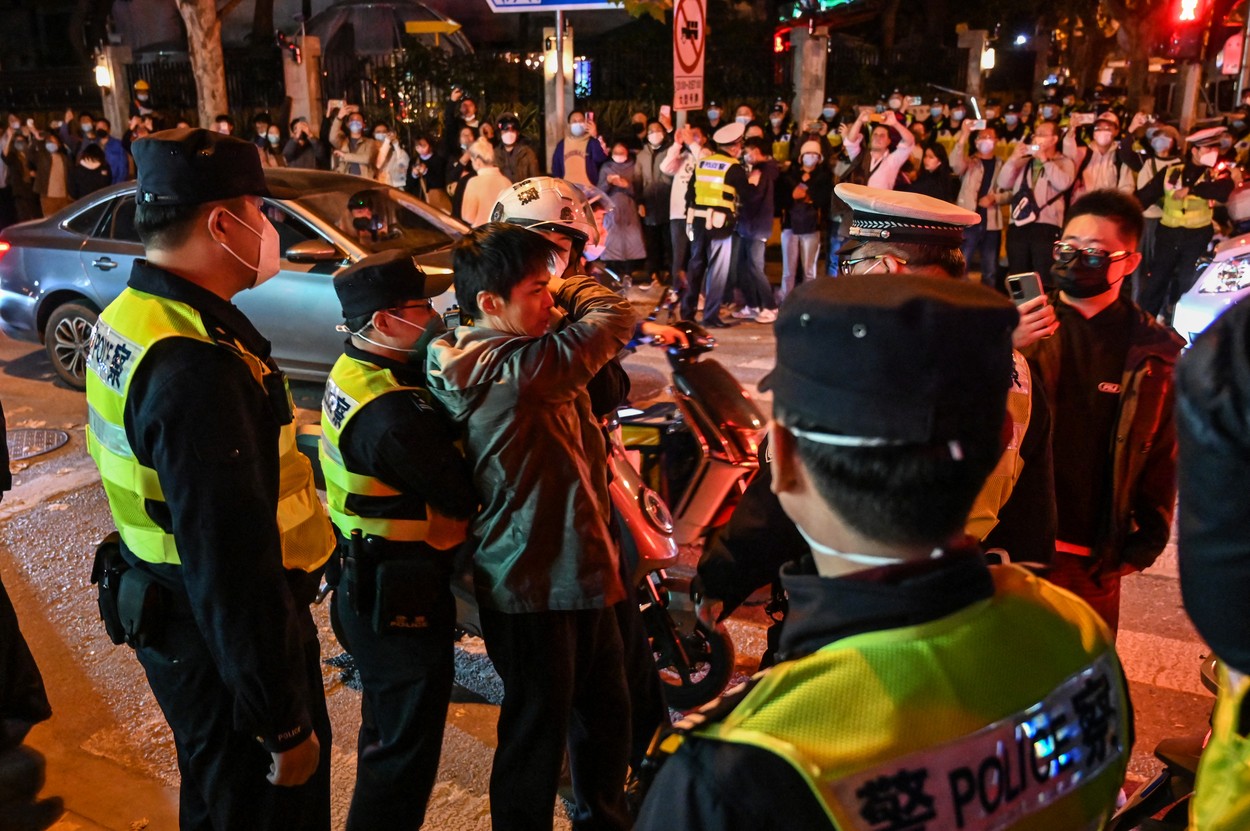 On Monday, some Chinese media made promises that at least the zero covid strategy would be fine-tuned. Some analysts interpret this as a subtle nod to the protests. According to Šebok, one of the expected reactions of the Chinese government could be a certain mitigation.
"It doesn't happen that often, but after the protests in Xinjiang, for example, we saw the authorities proclaiming the victory of the zero covid policy. But there are reports from elsewhere that protests may provide some relaxation in measures. However, this is a rapidly evolving situation, so it's hard to predict what will happen next," says Šebok.
In response, a number of media outlets, including People's Daily, have published editorials calling for "unshakable commitment" to the zero covid policy, which they say is the only right path. The Global Times front page warned of an "extremely severe winter."
Memories of Tiananmen
Many describe the protests as "the largest since Tiananmen Square in 1989".
"Although they did not even come close to those of 1989 in terms of the number of participants, the current protests are groundbreaking in some respects. The demonstrations before the pandemic were often more aimed at local governments and authorities, or relatively harmless issues for the regime, such as animal rights," explains Gardaš.
According to him, open criticism of the country's top leadership in the public sphere, as we have observed in recent days, is unprecedented. "The protesters are undoubtedly aware of the risk they take in protests, and their willingness to face the possible consequences and persecution by the regime only underscores the frustration and tension in society," he adds.
"What massacre?"
A combination of censorship, sufficiently strict laws and anti-covid measures. This is the recipe that, after three decades of effort, has effectively silenced China's Tiananmen Square massacre commemorations. Since last year, people have only been able to remember the hundreds of thousands of victims of the 1989 events from their homes. Or prison cells.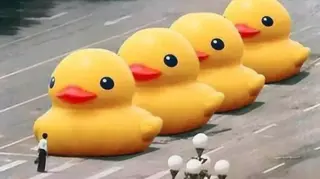 Or as stated in an episode of The Simpsons: "Tennis Square: Nothing happened here in 1989."
However, according to Filip Šebok, this does not mean that Xi Jinping should worry about his future.
"I think it's too early to say anything, but it's unlikely that Xi Jinping will be overthrown. What happened, of course, is unprecedented, but the protests are still relatively small. Over the past 10 years, China has improved its state's ability to suppress and spy on people," he said. I would be surprised if the protests continue to spread and succeed."
Rare nationwide protests erupted in many cities in China. While many demonstrators expressed disappointment with the tight Covid lockdowns, others demanded freedom of expression and even the dismissal of Chinese leader Xi Jinping. https://t.co/dT6CQepqAD pic.twitter.com/fj7vSDcMQ5

– The New York Times (@nytimes) 27 November 2022
But he has a clearer idea of ​​the political response. "I think it will be pretty harsh. There probably won't be direct police repression, but the security forces will soon identify those participating in protests, for example, chanting anti-government slogans. And I would expect the reaction there to be more fundamental," says Šebok.
Even David Gardaš does not expect the Secretary-General to be removed from office. "Public dissatisfaction can be mitigated by the symbolic dismissal of one of the top politicians or officials whose responsibility is to implement anti-pandemic measures. Logically, a gradual relaxation of these measures is also offered. But this is partly due to possible risks to the health system, but mainly due to Xi Jinping It cannot be done quickly because of the potential discrediting of .
If he suddenly withdraws from the policy he has insisted on since the beginning of the epidemic, it will damage his future reputation and credibility.
Creative protests
In Shanghai, the vigil turned into a street protest, where many held blank white papers as a symbol of silent resistance. In Beijing, Tsinghua University students removed signs bearing a mathematical equation designed by Russian physicist Alexander Friedmann, whose surname is a synonym for "free man" in Chinese. In China's censored internet, people give "yes", "good" and "correct" signs to their dissatisfaction.
Students from the elite school Tsinghua University protested with the Friedmann equation. I have no idea what this equation means, but it doesn't matter.
Here's the pronunciation: it sounds like a "free MAN"—a wonderful and creative way of expressing it with intelligence. pic.twitter.com/m5zomeTRPF

— Nathan Law 羅冠聰 (@nathanlawkc) 27 November 2022
Demonstrators use clean white paper to mourn the dead – the color of funerals in China is white. Clean paper is also a symbol of "the Chinese may not have a voice, but they are strong nonetheless." On Sunday night, thousands of people in Chinese cities lifted the white paper as a symbol of sadness and disappointment.
Blank papers have become an iconic item during the Covid protests in China

Many now refer to the movement as the "white paper revolution" or the "A4 revolution".

Follow latest ⬇️

— BBC News (World) (@BBCWorld) 28 November 2022
"Moreover, the regime has openly declared war against the virus in the spirit of mass campaigning known since the time of Mao Zedong and mobilized the whole society for these purposes. This, among other things, is a pernicious threat that protesters ultimately hindered the effective fight against the epidemic and threatened national security and stability. elements, which justifies the use of force to suppress them and rectify the situation."
So far, experts do not expect the current protests to turn into a nationwide coup. "Just because we don't see China's discontent on a regular basis doesn't mean it doesn't exist somewhere below the surface. But people know what's at stake. And so I would expect the intensity of the protests to decrease rather than increase. The government could take action to ban people from meeting, so this should continue." I don't think it's realistic."
west again
Even this time, "alternative" interpretations of what caused the protests do not lag behind. You don't even need to be stuck on Chinese social networks – just open Twitter. For example, a user named Li Qianyi with 16,000 followers estimates that the protests in Shanghai were organized by the American embassy.
The protest in Shanghai seems to be trending on Twitter ????‍♀️ The protest is about a fire in Xinjiang and suddenly there is a protest in Shanghai, 4427 km away, just 500 meters from the US consulate ????
On top of that, they are protesting in a street called Wulumuqi…

— 李倩仪 (@quanyi_li2) 27 November 2022
"It is somewhat reminiscent of the events of 1989, which the Chinese side also presented as a fiction of the West. It is interesting that this user on the one hand highlights the capabilities of the Chinese security apparatus, but according to him, the banner was made by the CIA or the American embassy." The user, for example, finds it suspicious that there are so-called lao-waj – foreigners – among the protesters.
"Of course, this does not mean that he is a representative or even organizer of the event. It is quite understandable that many foreigners currently living in China are supporting citizens who are trying to lift the brutal measures there," Gardaš said. He also states that the Chinese Communist Party will not underestimate its activities on social networks.
According to Filip Šebok, the narrative in the Twitter thread may correspond to a propagandistic interpretation of events. "It's beneficial for the whole, and it absolutely de-legitimates the whole process by saying that it's somehow a planned organized crime coming from abroad," Šebok says.
According to experts, the protests in China will probably not reach revolutionary proportions, even as the atmosphere thickens. "I've heard from loved ones living in China that residents are becoming dissatisfied. Even those who previously supported strict measures are now reconsidering their views and questioning the necessity of the government's approach. Whether the party will reflect this shift in Chinese collective consciousness will only have to evolve further," concludes David. Bro.
Source: Seznam Zpravy
I am Joel Fitzgerald, a news website author for The News Dept. I have worked in the media and journalism industry for over 10 years and specialize in world news. My articles have been featured in prominent publications such as The New York Times and The Washington Post, where I am an expert contributor on global affairs.
I also write extensively on topics related to politics, economics, business, finance and technology. My work has been recognized with numerous awards from organizations such as the United Nations Press Corps and Associated Press Editors Association of America (APEA).
In addition to my writing career, I have held various roles within the field of communications ranging from public relations specialist to digital strategist.