Twenty-one years, three months and three days – that's what Denmark's Kira Maria Peter-Hansen was when she was elected the youngest member of the European Parliament in history in 2019.
In his hometown of Denmark, a member of the green-left party Socialistisk Folkeparti (SF), he is vice-chairman of the Greens/European Free Alliance fraction in the EP, as well as vice-chairman of the subcommittee on tax issues; He is also a member of several other committees. A former economics student at the University of Copenhagen, she also runs a major campaign against climate change, striving for equal opportunities for both sexes and calling for greater representation of young women in politics.
For example, she said, "I am shocked that women under 30 are represented by less than one percent in parliaments around the world."
What does he face as an MP with an average age of 49 and a half? So, what advice does he give to young people who want to make a name for themselves in politics? Kira Marie Peter-Hansenová answers this question in an interview with the editors of Seznam Zpráv.
Why did you decide to enter politics?
My motivation was that I wanted to start a discussion among my colleagues about the future of Europe. It was not enough for me that only my parents or my grandparents' generation were debating what Europe should do, such as immigration.
I did not expect to be elected to the European Parliament as a Member of the European Parliament. As I said, I mainly wanted to stimulate the debate about the European Union and its future.
When you finally got into the EP, did you feel like you were missing out on something compared to your peers?
Yes, I would say a lot. Especially in the beginning, when I left my college bubble and entered the serious political world. This was difficult for me. A few years ago, while my friends were finishing their undergraduates, now heaven is finishing their masters, I am on a completely different path.
It also affected many of my friends and relationships, as I was not at home that often in Denmark. It also gave me a lot of experience that I wouldn't have gotten otherwise.
What do you like most about the MEP role? And what do you consider to be your greatest achievement so far?
The best part is that what I do really makes a difference. For example, solving the problem of fee transparency. I am the AP's main negotiator for this law and I discussed with the Czech Presidency what its final form should be if it is approved. The decision could then affect the lives of up to 500 million Europeans.
I'm also a mediator for the Greens on money laundering. And it's great to see that the ideas one has when negotiating with individual member states become part of the position of Parliament. Even individually, you have a great influence.
I also enjoy the people I have the opportunity to work with.
document
Twenty years later, the European Parliament is once again chaired by a woman from Malta, the least populated EU member state.
How does your typical work day go?
We start with a morning team meeting where we discuss what's going on in the world, what's being written about in the media and what's going on in politics, in more detail, or whether there's anything we need to respond to or follow up on. We also adjust the calendar on Mondays and make sure we are ready for the week.
Also, my day consists of several meetings with other lawmakers from the Greens, other groups or stakeholders to come to a political agreement. For example, interviews and discussions with high school students are also an important part.
You are the youngest MP in history and you are also a woman. How did it feel for you to put yourself forward on the floor of the parliament? Have you struggled with stereotypes because of your age and gender?
Yes very. I often give an example. At my first meeting, a colleague from another group told me to speak out loud because people over forty at his desk couldn't hear me. He was making fun of my age.
Of course you never know how people perceive you, but sometimes I feel like men can make fun of me, bully me or even flirt with me, especially because of my age and being a woman.
But at the same time, I think the European Parliament is a good place for a young politician, and we Greens are a feminist party with lots of youth, women and other groups.
from Czech Republic
Forty-one-year-old pirate Adéla Šípová is the youngest senator. Feminist, lawyer and mother of five, she was elected to the upper house two years ago. In the interview, she talks about her disappointment with the upper house, which is always made up of old gray-haired men.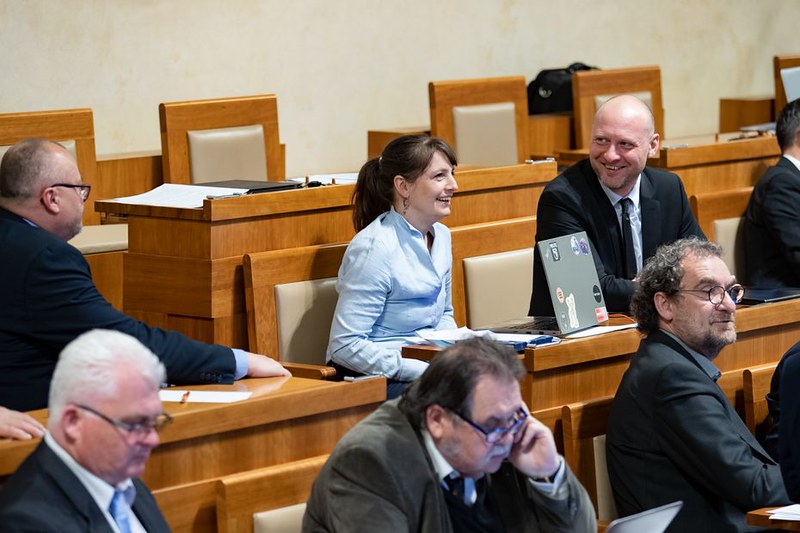 Are there enough women in the European Parliament? And maybe in politics in general?
No way. There are still less than men (pen currently 41 percent in the AP and 59 percent in men, see 2019 data – noted.). It can be seen that gender representation is not as balanced as it would be if women were promoted in parties in each member state.
However, I feel the situation is improving. Also, the EP is one of the more diversified than many other national or regional parliaments.
Why do you think equal representation of women and men is important?
I would say that the greatest possible diversity is important, not just women, but in general. We can all benefit from our expertise and life experiences. For example, I do not know as much about the nursery system as those who have children and go to these institutions. On the other hand, my grandfather's generation does not understand what it is like to be young today in a time of climate crisis, economic problems and unemployment.
In my view, it is important to bring together different experiences and turn them into political power to create better legislation.
How can we get more young people into politics?
It is the responsibility of political parties at the national level. Having parties that genuinely support young people's candidacy and support them if they want to. It's easy to say how important young people are and that we want them to be more involved in politics, but we'll get nowhere if we don't give them the opportunity to run or gain influence.
Danish political parties are successful in supporting young people in politics. However, this is not the case in most European countries.
You are a member of the Greens/ESA group where the environmental issue is important. How do you evaluate the results of the COP27 climate summit held recently in Cairo, Egypt?
I was really disappointed. I see 2022 as a wasted year in relation to climate change. We are not close to our goal of approaching 1.5 degrees Celsius. (see information box).
Paris Climate Agreement
The Paris Climate Change Conference took place in December 2015.
Delegations from nearly 150 countries participated in the negotiations for a new legally binding global agreement on climate change.
The global agreement was ratified on December 12 and says the goal is to limit global warming to well below 2 degrees Celsius compared to pre-industrial times and continue efforts to limit it to 1.5 degrees Celsius.
Even in connection with the creation of a special fund, which is very important for vulnerable countries and whose shape is still unclear, I do not see any significant changes. It is unknown who will contribute and who will remove it. In short, support for the most vulnerable and most affected (from climate change) is still lacking. Personally, I had higher expectations from the summit.
We also hoped we could keep the Paris Agreement alive, which doesn't seem so. Also, we are not reducing the global pollution level.
A new climate agreement
Representatives of nearly 200 countries concluded the two-week COP27 climate conference in Egypt, and finally an agreement was reached on establishing a fund to help poor and vulnerable countries.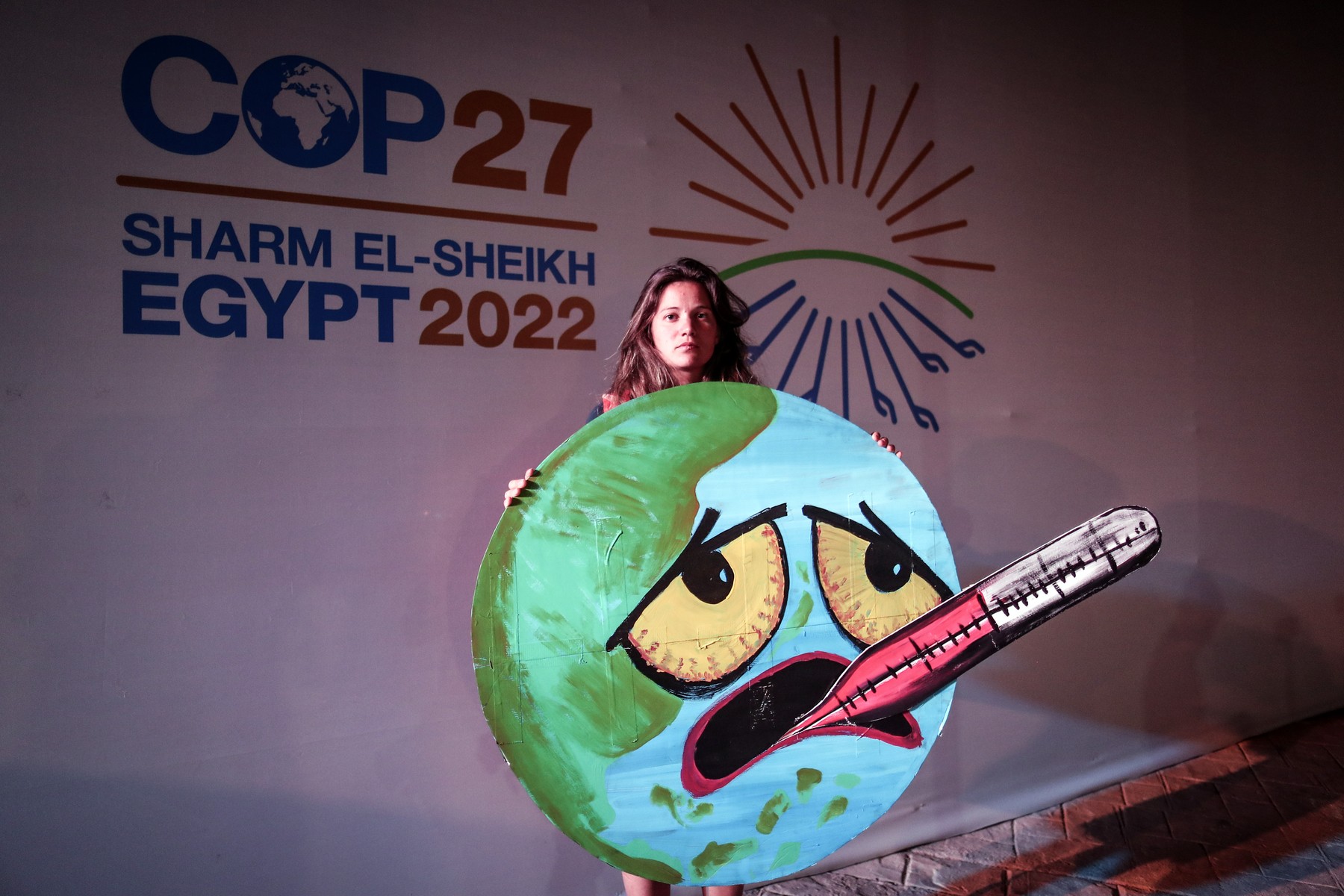 Do you think Europe is doing enough?
No, it definitely won't. We have set a target to reduce CO2 by 55 percent by 2030, but this is not in line with what scientific data shows us and what we need to do to reach the Paris Agreement.
Now, as a result of Covid-19, the decrease has increased to 57 percent. And we are taking a step back because of the energy and inflation crisis. They say it's not possible to solve several things at once (to provide energy crisis and clean energy at the same time), but I think this is a missed opportunity.
There are different ways to draw attention to climate change. Recently, however, the actions of activists in galleries, often spilling paint or soup on glass-protected paintings and blocking traffic on the roads, have resonated with the community. What is your opinion on this matter? Don't you think they did a disservice to the theme?
From my point of view, it depends on many factors. I really understand people who get frustrated because I'm frustrated too. We perceive that we are not making progress and that politicians are not trying to meet their climate goals, which further deepens frustration. Likewise, it deepens the distrust of democracy.
These people then decide to use civil disobedience and certain practices to highlight the problem. So I understand where their ideas are coming from, but at the same time, they run the risk of greatly diminishing support for the climate problem with these steps. Yes, it will attract attention, but we must also respect the law.
What advice would you give to young people who are concerned about the climate crisis? What should they do?
They should stand up and talk about climate issues, just like anything else that bothers them and is important to them. Next, they need to engage with them. It is also important not to lose hope, because even if things seem hopeless, democracy is the best way to achieve goals and political change.
Join activism or take part in parliament, take advantage of opportunities and support democracy, that's my advice to them.
Why should what happens in European politics matter to Czechs and Czechs?
The European Union is important because the decisions we make have tangible effects on our lives and policies. However, it is important to remember what we mean by the EU. An organization made up of members of the European Parliament, commissioners, member states and the EU, we can make any political change we want.
It is also a battleground like any parliament. Therefore, it is important that people are involved in it, otherwise change will occur without them.
What would you recommend to Czech youth who want to make a name for themselves in politics?
Understanding that they have the right to be a part of the political debate and that their voice is as important as anyone else's and being involved. Yes, there will be problems, there will be resistance, but it is important that they try, because we need to ensure that young people are better represented in politics.
Source: Seznam Zpravy
I am Joel Fitzgerald, a news website author for The News Dept. I have worked in the media and journalism industry for over 10 years and specialize in world news. My articles have been featured in prominent publications such as The New York Times and The Washington Post, where I am an expert contributor on global affairs.
I also write extensively on topics related to politics, economics, business, finance and technology. My work has been recognized with numerous awards from organizations such as the United Nations Press Corps and Associated Press Editors Association of America (APEA).
In addition to my writing career, I have held various roles within the field of communications ranging from public relations specialist to digital strategist.