After nine months of intense fighting, 30-year-old Ukrainian soldier Vlad was overjoyed when he arranged a date via a dating app. Only after meeting the girl face to face did he realize that his former charm had left him.
"I didn't have the energy to take the conversation beyond 'How are you?,'" the soldier told The Washington Post, on condition that his last name not be published. "I'll greet him, ask him how he's doing… but I can't go any further. It took a lot of energy to maintain such a dialogue. And I didn't have it here," she admits.
Vlad's unit is among the soldiers fighting in the so-called "grey zone". Every day he sees death and destruction affecting his soul. And after all that, it just doesn't seem realistic to him to have conversations that will bring him closer to girls.
Another war victim
The Russian invasion of Ukraine changed almost every aspect of daily life. The country is facing economic collapse, sirens warn of Russian bombing every day, and Ukrainian soldiers in the east of the country are fighting not only for land, but also for their lives.
Proximity later became another casualty of the war. "When you're on the front line, you're constantly bombarded. Constant adrenaline, stress. You see wounded friends, death, all kinds of death. It can't be run indefinitely," explains Ukrainian Army Lieutenant Kyrylo Dolorenko.
Where is the war going?
Even after ten months of war in Ukraine there is no peace in sight. According to analyst Michal Smetana, the ceasefire is not helping anyone. "Russia still occupies a significant part of the territory of Ukraine, which is also economically important," he says.
He adds that he and his men sometimes hold meetings when they take a break from frontline duties. "But you don't have enough time to start being brave, emotional, and loving," she thinks.
"Trauma and love don't go together"
Alexander Kolomiychuk, a sex therapist from Kiev, agrees that Ukraine's brave resistance at the beginning of the war may have had an appeal. But it quickly dissipated. "It has been replaced by the psychological weight of countless war traumas," explains Kolomiychuk.
One hundred thousand soldiers were killed or wounded, more than five million Ukrainian civilians were forced to leave their homes. More than ten million people across the country are currently facing a humanitarian catastrophe. "It's real trauma. And trauma and romance don't go together," says the therapist. "When people are fighting for survival, they don't think about intimacy or sex. Things like that are fun, they're fun. And there's no time for that in war," he concludes.
Additionally, soldiers in a war zone often have to numb their emotions. War forces them to suppress fear, anxiety, or depression. They may have trouble opening up again to their spouse or partner after returning home. "When you're in survival mode, you think you distrust others," said Casey Taft, a Boston University School of Medicine professor who works with war veterans and their associates. "Retired soldiers can then accuse their partners of cheating on them. Even after returning home, it's hard for them to turn off this survival mode," informs the doctor.
The problem is also the prolonged separation of warriors from loved ones. Forty-three-year-old Jaroslav Sačko admitted to an American newspaper that he had not seen his wife and children for almost a year. "I'm afraid of how my wife will react when we meet again. It will be as if he had never met her, as if he had never seen her. It's almost like meeting a stranger," he complained, saying that he and the woman should get to know each other again.
How has the war in Ukraine changed in the last ten months?
According to security analyst Michal Smetana, conflicts in Ukraine take place in four main areas. From the maps rendered by the Seznam Správy server, it appears that the changes to the frontlines have been minimal recently. See how the frontline has changed.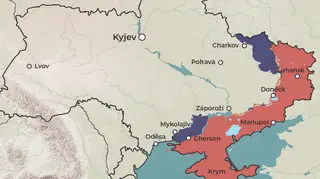 The war changed the interest in erotic products
But now the main customers of Ukrainian sex shops are couples who continue to break up. Larysa Gončarová runs one such store in Dnipro, Ukraine, and claims that the war did not significantly reduce her income.
"We are seeing a sharp increase in interest in sex products for long-distance couples, even though less underwear is sold as many women leave Ukraine," Gončarová said. "In the midst of frequent power outages, interest is also growing in LED-light toys or glow-in-the-dark condoms," he added, adding that they are offering soldiers 20 percent off all products.
Despite all its horrors, the war also writes romantic stories. At least a few Ukrainian soldiers got married while on a break from front-line duties, some Ukrainian women fell in love with foreign fighters who came to help Ukraine in the war against Russia. Many residents also say the war has forced them to accelerate important life milestones: breakups, engagements, and new relationships.
"You can't sit back and wait for the lights to go out and rockets to explode," says a man named Artem, who met his girlfriend at a party a month after the Russian invasion began and lost his job after he lost his job. Because of the war, his new relationship is the main reason he stays in Ukraine. "We must move on, live and love each other. Here we are," he concludes.
Source: Seznam Zpravy
I am Joel Fitzgerald, a news website author for The News Dept. I have worked in the media and journalism industry for over 10 years and specialize in world news. My articles have been featured in prominent publications such as The New York Times and The Washington Post, where I am an expert contributor on global affairs.
I also write extensively on topics related to politics, economics, business, finance and technology. My work has been recognized with numerous awards from organizations such as the United Nations Press Corps and Associated Press Editors Association of America (APEA).
In addition to my writing career, I have held various roles within the field of communications ranging from public relations specialist to digital strategist.