A truck caravan stretches for several kilometers along a mountain road in Georgia near the Russian border. It seems to be getting longer every day. Drivers wait here for several days to unload rare Western goods such as car parts, industrial supplies, chemicals, paper or tea bags. They've come a long way. They usually start in Turkey and end in Russian cities where there is a great interest in Western goods.
The war in Ukraine abruptly cut off many of Russia's trade links with Europe. However, the Russian economy quickly managed to adapt and find alternative routes for imports. Georgia, a former Soviet republic with a population of 3.6 million that also had a painful war with Moscow in 2008, has become an advantageous logistics channel between Russia and the outside world in the last ten months.
The sharp increase in trade also means a profitable business for truck drivers. Georgian Murman Nakashidze, 48, is the owner of a small shipping company with four trucks that transports cargo from Turkey to Russia. They carry everything from electronics to building materials. Not many European companies can complain because they stopped doing business with Moscow to protest the war or as part of Western sanctions.
Murman is shedding tears. The mobile phone is constantly receiving more and more demand for the transportation of goods to Russia, and accordingly the price offers are increasing. "For many, it's a war, but others are making money off of it," Nakashidze told reporters from the New York Times (NYT). "It's good for us, that is, for our economy. But it's bad for others.'
The transport of goods through Georgia and neighboring countries such as Armenia and Azerbaijan helped Russia weather the economic storm caused by the invasion of Ukraine. According to the government, Russia's economy has only slowed slightly over the past year, although some goods are still insufficient and many Western companies have closed.
While the outlook for growth remains uncertain, the total collapse that some economists had predicted in the context of Western sanctions did not materialize.
The former Soviet republic of Georgia has become an important route for trade between Russia and the outside world in the last 10 months, helping Moscow weather the economic storm caused by its invasion of Ukraine. https://t.co/T8RCOPwGNd

– The New York Times (@nytimes) January 13, 2023
Georgia is located at the southeastern tip of Europe in the Caucasus and offers the fastest land route to Turkey, which has become one of Russia's main trade links with the West. According to a survey conducted by TBC Capital, one of Georgia's leading investment banks, the volume of goods transit between Turkey and Russia tripled in the first six months of 2022. Most of them traveled on Georgian roads.
According to data from Russia's Federal Customs Service, the queue of trucks stretching along the picturesque slopes of northern Georgia in December was on average more than twice as long as a year ago. The traffic is much more than the border gate can handle.
"They're all here now, Belarusians, Kazakhs, Uzbeks, they've never been here before," 60-year-old Alik Oganesyan tells the NYT as he fixes his truck and waits in line. Sometimes drivers have to wait so long that their cargo begins to deteriorate, he added.
The Russian customs service is working to increase the number of crossing lanes, and Georgia is building a 5.5 km tunnel through the most problematic part of the highway, which is sometimes clogged with avalanches.
Also works in reverse
Russian goods under the burden of the embargo continue to flow to EU countries. List Reports traced one of the smuggling routes that turned Made in Russia products into goods of Bulgarian origin.
Queues sometimes extend as far as Tbilisi, the capital of Georgia, about 100 kilometers from the border. Along the ring road, there are private car parks where truck drivers can rest and sleep while waiting. The queue is not continuous. Here the traffic is regulated by police patrols, and there are sections where idling of trucks is prohibited due to the mountainous terrain. As the truck drivers approach the border, they receive a numbered ticket that fulfills their order.
Because of the long wait, many drivers choose to go to Russia via neighboring Azerbaijan, which will extend the journey by several days.
It is not possible to say how much of the European cargoes passing through Georgia are subject to European Union sanctions. However, the country's becoming an important trade link with Russia points to a possible gap in the European Union's sanctions policy.
The Georgian government insists it strictly enforces Western sanctions and rejects many shipments. But opponents of the ruling party in parliament say the flow of goods and money is largely unhindered.
Maria Šaginová, senior researcher at the International Institute for Strategic Studies, said the Georgia case illustrates how third countries allow sanctioned states to circumvent trade restrictions.
"Georgia is balancing between its official pro-Western orientation and its economic dependence on Russia," Shaginova said in a phone call, adding that the rapidly growing trade volume could exceed Georgia's ability to impose sanctions. "Georgia is on very thin ice," she added.
Ivan Fedyakov, head of Russian market consulting firm InfoLine, which advises companies, said that although Russia produces most of its own food and imports consumer goods from Asia, the Georgia route helps Russia solve its irritating European components and raw material shortages for factories. On how to survive under current constraints. "The main problem was with industrial cargo," he said.
For example, Russia produces large quantities of tea, but has to import filter paper for tea bags. The European Union banned the export of this paper to Russia in April, forcing Russian factories to seek alternatives from China and Turkey. Fedjakov said that the road through Georgia solved the problem. That way, factories can stay afloat and have jobs for workers.
Russian oil also found its place
The EU did at least two great powers a favor when it closed the door to Russia's oil supply. Russian oil, mined in the Arctic region, has found a home in China and India, selling unpopular goods at significant discounts.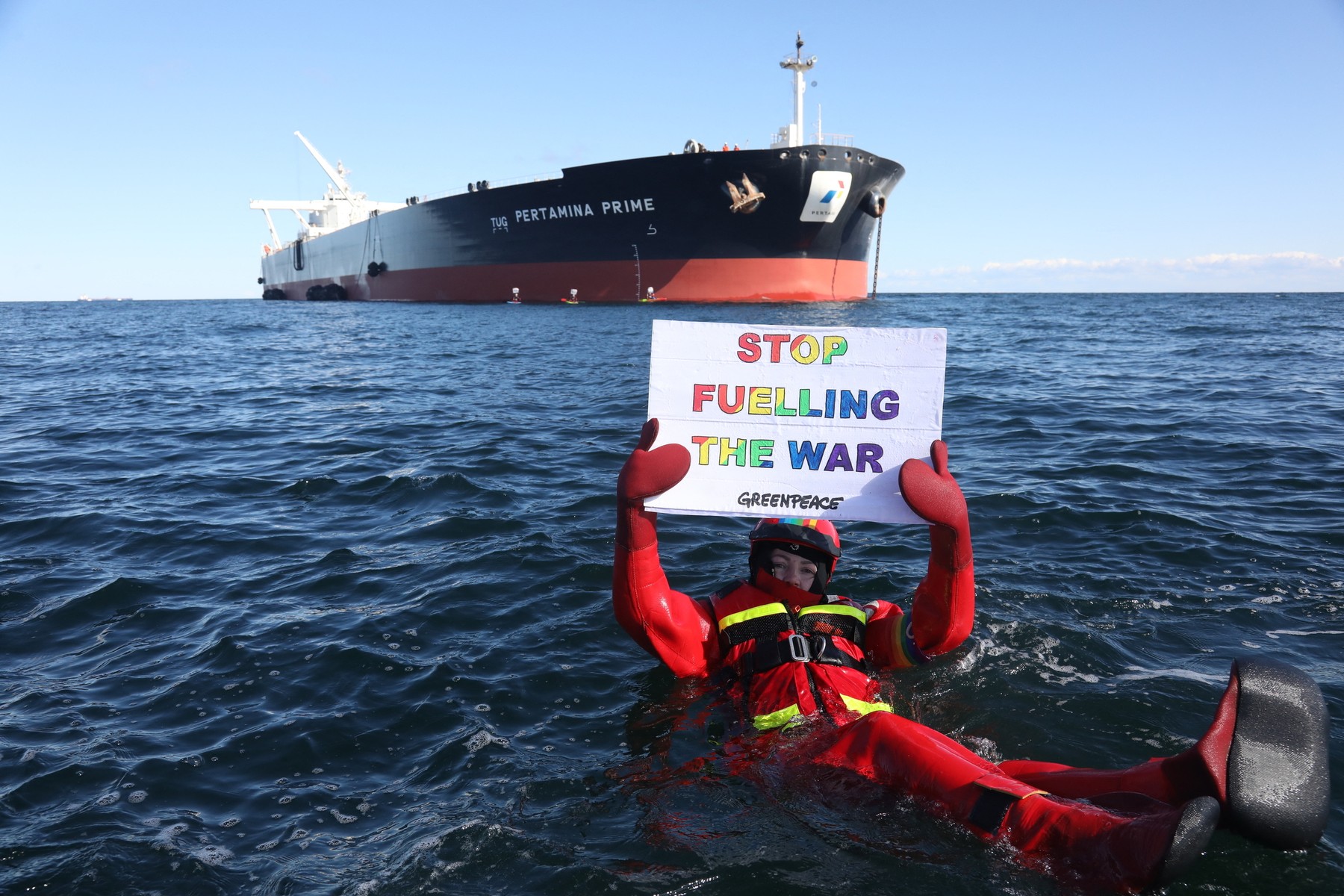 In an interview with Russia, the head of the customs authorities of Russia said that since May, more than $ 20 billion of goods have traveled to Russia through the so-called parallel imports – when something is brought into the country without the permission of the company that owns the trademark. state television A large part of the load is cars and equipment for factories.
In general, at the end of 2022, according to the country's central bank, Russia has almost restored its pre-war level of imports, while renewing its main source of income, namely the tariffs it collects on goods entering the country.
Aleksandre Davitidze, president of the Georgian Forwarders Association, said group members will not process any cargo embargoed for Russia, but smaller companies may be allowed to do so. Davitidze added that shortly after the invasion, he started receiving e-mail requests from Russian companies and individuals asking for help in shipping various goods to Russia. "I hardly understand them now," he said in an interview. "That means they either found other companies or started their own."
This is how the Russians fled Georgia before mobilization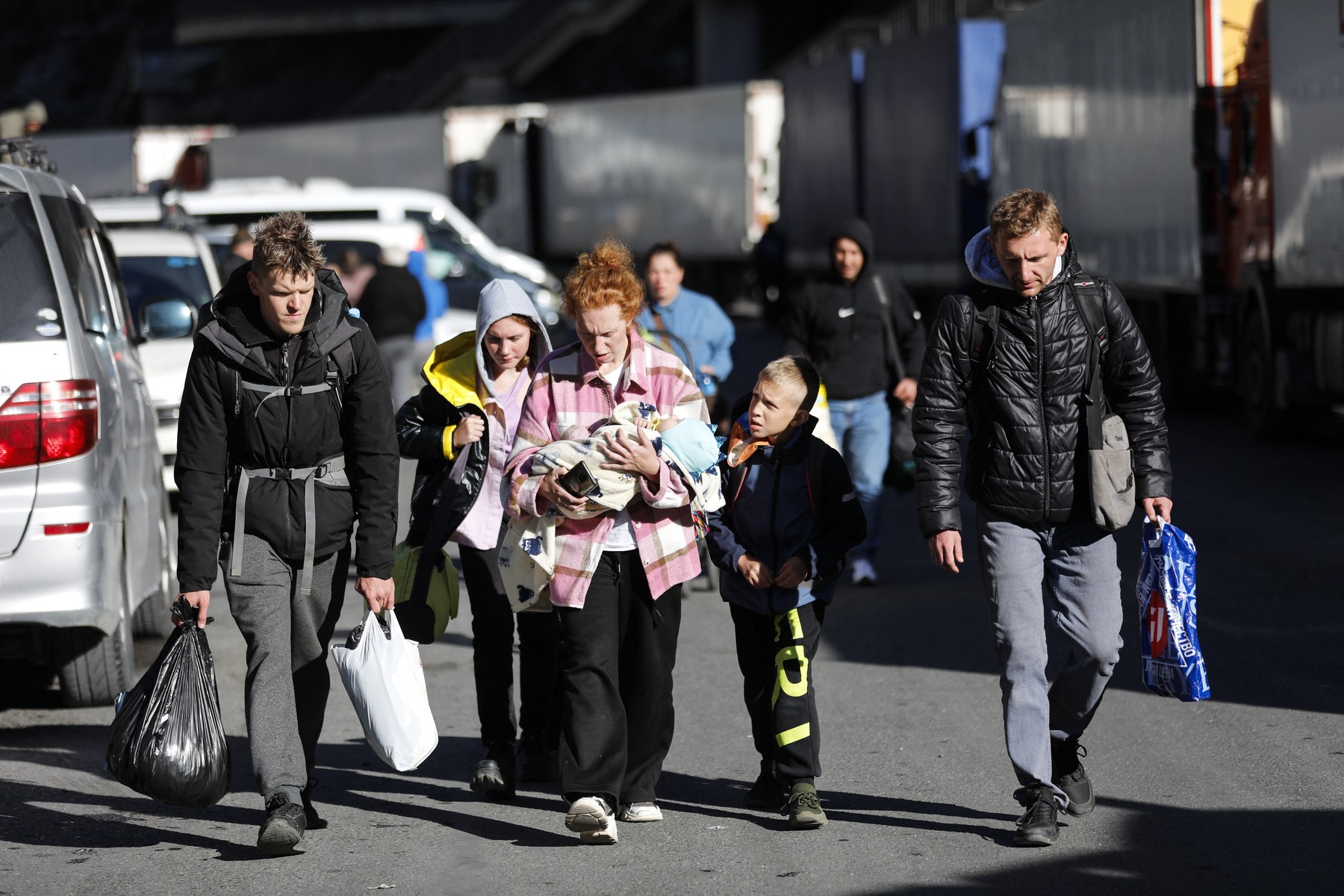 Economic cooperation with Russia, which took control of a fifth of Georgia's territory after the war, angered many Georgians. "Our government has decided to be among them," said Giorgi Oniani, deputy director of the Tbilisi branch of the global anti-corruption group Transparency International. But at least some personally feel closer to Russia and the Kremlin."
According to economists, this opportunity is too attractive for the Georgian economy to resist. "When you don't have a strong political stance, in most cases, entrepreneurs are always chasing profits," said Giorgi Mzhavanadze, senior partner at TBC Capital, the investment banking arm of Georgia's largest bank. Turkish and Russian companies "use Georgia as a transit country and we do not punish them for this."
Poti, Georgia's largest port on the Black Sea, is working on an ambitious project that will double its capacity to accommodate larger vessels. Iain Rawlinson, commercial director of APM Terminals, the Dutch operator of the Port of Poti, said the project, which began before the war, now "feels like a better decision than before". "Volumes in Georgia have increased significantly."
Although APM Terminals cut its business with Russia after the invasion of Ukraine, it is not known what will happen after the cargo is unloaded in Georgia. "We have no idea what happened to the cargo after it left us," Rawlinson said. He added that the majority of the trade carried out by the port is not to Russia, but to Central Asia.
Nakashidze, a Georgian truck owner, wants to expand his business. However, it cannot afford more high-demand drivers. "They also want more money," he added to the NYT.
Source: Seznam Zpravy
I am Joel Fitzgerald, a news website author for The News Dept. I have worked in the media and journalism industry for over 10 years and specialize in world news. My articles have been featured in prominent publications such as The New York Times and The Washington Post, where I am an expert contributor on global affairs.
I also write extensively on topics related to politics, economics, business, finance and technology. My work has been recognized with numerous awards from organizations such as the United Nations Press Corps and Associated Press Editors Association of America (APEA).
In addition to my writing career, I have held various roles within the field of communications ranging from public relations specialist to digital strategist.